9 tips for the Ultimate Guide Writing A Successful Blog Post
May 13, 2019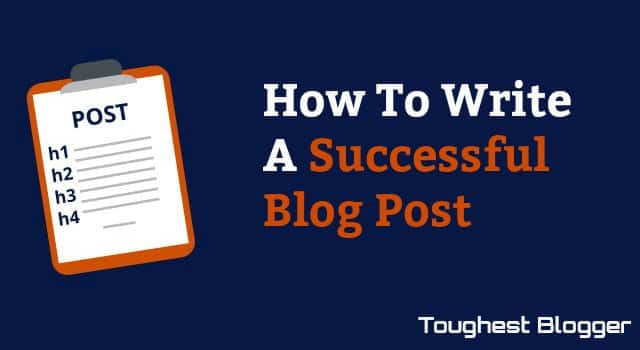 Most of the blogger specially new bloggers don't know how to write a perfect blog post. They think that blogging is just about writing on something but in reality blogging isn't as easy as new bloggers think about it.
The everything of a blog is its content if the content is successful then obviously blog will also be successful, if your content fails to attract people attention then you must be doing something wrong. But don't worry today we are going to tell you how to write a successful blog post, this is short, helpful and step by step guide from getting ideas to promoting it.
1. Getting ideas
First of all you need some strong idea for writing a blog post about it. But where to pick that strong idea? There are simple and common ways to draw tons of ideas in your mind most popular are, reading other "popular blogs in your niche", by joining related forum discussions, by getting and reading email newsletter of the related blogs and some others.
2. Searching for the keyword
Now the next step to write a successful blog post is searching for the keyword. After you have got an idea about your next blog post, search for the keyword related to that idea in Google adwords. For example if you have got an idea for writing about "successful computer manufacturers" then your keyword might be "computer manufacturer or computer manufacturers" pick one with most monthly searches because both can be used in this type of post. While picking up the right keyword for your latest blog post try to pick the keyword with at least 5k monthly searches and with low competition.
3. Research about the topic
Now its time to do some necessary research about the topic for doing research Google is the best tool. Just put your query and start researching, you should search with 3-4 different but related keywords to get more in mind. Also don't just rely on single website check at least 3-4 websites for the single topic and then write down the main points in your mind. You should also check related forums discussions because from there you will get some best info.
4. Title of the successful blog post
While writing down the title of the blog post double check your keyword is coming first in the title or at least its between the start and middle. Keyword at the start of the title will be more preferred. For example if your keyword for the blog post is "richest politicians" then your title should be like "Richest Politicians – Top 10 Among them" your can also add keyword two times at start and end like "Richest politicians – World's Top 10 Richest Politicians" and like in this blog post title.
5. Slug
Never underestimate the slug of the page, your main keyword must exists in the slug don't matter other title words are in it or not. Also keep the slug short and simple.
6. Writing the details
Now its time to tell the world about your knowledge. First of all give a short info about your blog post in the start, you should tell your readers what are going to write and what are its benefits. Just make it in a single paragraph. But you should add your main keyword twice in that first paragraph. After that start writing details about the article, one thing important you should add at least one heading in the post don't matter if its a list post or regular one.
Also add your main keyword in heading, this will attract visits from search engines. Then try to add your keywords in the middle and at the end of the blog post. At the end give a short summary about your blog post and again tell your readers why these points discussed in blog post are important. Keyword density in your blog post should be 2%. Also add at least single image in the post and also make sure that your main keyword exists in the alt and title of the image.
7. Picking up the categories and tags
While picking up the categories just select the most relevant category and after that add at least 5 tags for your blog post.
8. Read and publish
Now this is the last step before publishing of the blog post. Proofread your post, check and fix the mistakes in it and after its okay publish it.
9. Ping and Promotion
Right after publishing blog post ping the URL using ping tools like pingler and other famous. You should also add at least 10 ping services in your update services which you can find in the settings of WordPress, users of other blogging platform can do this manually. Pinging the URL will help your blog post getting indexing as early as possible in the search engines.
After that you should promote your blog post in at least 20 social networking website like, Facebook, Twitter, Pinterest, Tumblr, Google Plus, Friend Feed, Apsense, Clipboard, Chime, LinkedIn, Delicious many more. Now the copy the URL of the latest blog post and then comment on at least 10 blogs with default WP comments or with comment luv with your latest blog post URL.
Know the best about how to write a successful blog post:
So, this is the ultimate guide to write a successful blog. We have guided you step by step regarding this matter but for making your all of blog posts successful you should use SEO plugins like Yoast SEO and All in one SEO, but most importantly you should build quality back links for your website this will attract all of the search engines to your website or blog. We hope you will like the stuff but stay in touch with us because there is coming more.
-